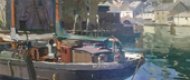 Mary Barrow schooner Polperro
Posted on May 13, 2020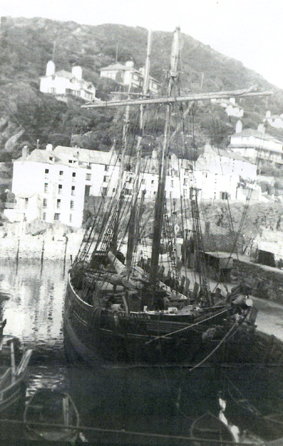 The Mary Barrow was one of the biggest vessels to visit Polperro harbour before the Second World War.
Built by W. K. Lean at Falmouth in October 1891 for South American hide trade, she was a beautiful three-masted topgallant schooner, was 103' long, 24' wide and 11' high. In 1894 two of her crew died of yellow fever. For many years she plied the Newfoundland fish trade and nearly came to grief during the January storms of 1908 when she was stranded on Porthminster beach, St. Ives (alongside another schooner, the Lizzie R. Wilce). Both ships were carrying coal from Swansea when they encountered heavy seas and a strong north-west gale while trying to enter St Ives harbour. She was refloated a week later under a reduced rig and continued to sail on the British coastal trade.
In 1926 she was fitted with an engine and managed by Couch of Fowey. In 1928 she was owned in Newquay but around 1932 she was sold to Captain Peter Mortensen of Truro and converted to auxiliary schooner, finding steady employment in the china clay industry to Scotland.
In September 1938 she was lost in fog off the Isle of Man and came too close inshore and was stranded on the Calf of Man while bound with coal from Truro to Ayr. The crew were saved but the sturdy old schooner was doomed. She was pounded by the storm during the night and when dawn broke she had been reduced to a pile of broken matchwood.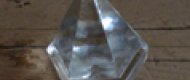 Posted on February 11, 2020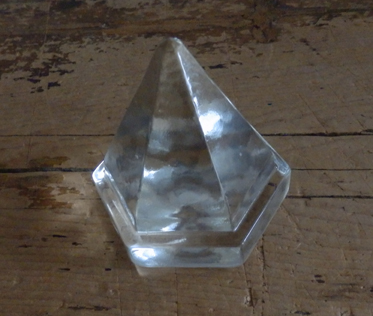 I was given this ship's prism by an American friend, Roberta Weisberg (see blog January 2016). At first, I wasn't sure what it was… my first thought was that it was a paperweight of some sort. The smooth, hexagonal face measures three inches between opposing vertices, and three inches between opposing sides. The overall height to the tip is three inches. It is quite heavy for its size, and I'm not sure exactly how old it is.

What I have since found out was that for centuries, sailing ships used deck prisms to provide a safe source of natural sunlight to illuminate areas below decks. Before electricity, light below a vessel's deck was provided by candles, oil and kerosene lamps - all dangerous aboard a wooden ship. The deck prism was a clever solution: laid flush into the deck, the glass prism refracted and dispersed natural light into the space below from a small deck opening without weakening the planks or becoming a fire hazard. Aboard colliers (coal ships), prisms were also used to keep check on the cargo hold: light from a fire would be collected by the prism and be made visible on the deck even in daylight.

In normal usage, the prism hangs below the overhead and disperses the light sideways; the top is flat and installed flush with the deck, becoming part of the deck. A plain flat glass window would just form a single bright spot below - not very useful for general illumination - hence the prismatic shape.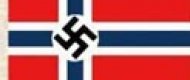 Posted on January 16, 2020
Stories of extraordinary heroism by people caught up in the horrors of the Second World War are still emerging even seventy-five years after the events.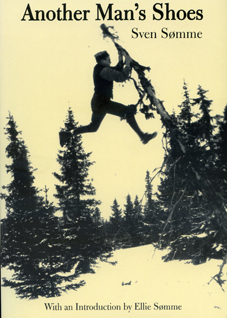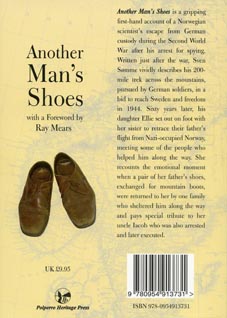 One such is the first-hand account of Sven Somme, a Norwegian scientist who was working for the resistance movement in 1944 when he was arrested for spying by the Gestapo. On his way for interrogation and almost certain death, he managed to escape and make his way across the mountains to freedom in Sweden, pursued by German soldiers.
Sven's remarkable story, written shortly before he died after the war, was eventually published by the Polperro Heritage Press in 2005 after his daughter Ellie Somme had returned to Norway and traced the route of her father's flight from Nazi-occupied Norway, meeting some of the families who had helped him along the way.
Ellie recounts one particularly emotional moment when a pair of her father's shoes, which he had exchanged for mountain boots, were returned to her by one family who had sheltered Sven along the way.
After the book, Another Man's Shoes, was published fifteen years ago, Ellie later discovered coded messages hidden in microdots under postage stamps on some letters among her father's effects. Much has subsequently come to light about the secret work of the brave men and women who worked for the Norwegian resistance, many of whom were tortured and executed following capture.
Ellie Somme talks about her father's work on BBC Radio 4 Saturday Live on 18th January.