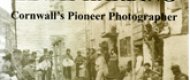 Posted on February 28, 2019
Some of the earliest photographs taken in Cornwall in the 18th century are the product of a patient of Dr Jonathan Couch of Polperro. The man in question was Lewis Harding (1807-1893); encouraged to take up photography as a therapeutic treatment following a nervous breakdown, he was the grandson of the erstwhile local squire, Rev Sir Harry Trelawny.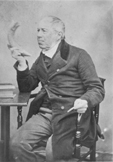 One of Harding's earliest photographs was of Jonathan Couch himself, pictured seated at Trelawne holding the tusk of an Indonesian wild pig in October 1856 (right). Photography then was in its infancy and the equipment required was cumbersome, so that almost all of Harding's later subjects were drawn from the residents of Polperro where he lived.
Many of them were local fishermen. Indeed, one of Harding's most notable legacies is a series of 80 head and shoulder portraits of Polperro fishermen and other village men. Among them, John Oliver the customs officer, Richard Curtis the local preacher, William Minards the boot and shoemaker, Joseph Geddye the landlord of the Three Pilchards Inn, all part of the fabric of village life in a Cornish fishing village 150 years ago.
Lewis Harding was using a collodion process. Discovered in 1846, it was made by dissolving gun-cotton with a mixture of alcohol and ether and was originally used to treat wounds, but in 1851 Frederick Scott Archer used it for the first time to coat photographic glass plates. The surviving sepia prints are still of a high quality, but more recently there have been moves to colourise them. The results are remarkable, as this portrait of William Adams (1814-1893) shows.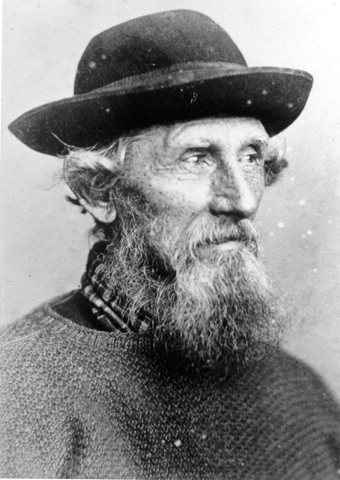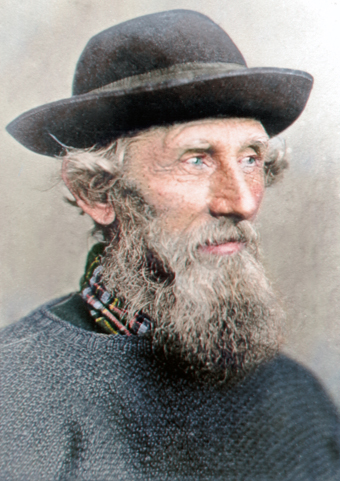 Posted on October 15, 2018
Polperro once relied upon the sea for nearly everything: food, transport, trade, defence and contact with the outside world. Fishing was always a vital part of the Cornish way of life and in the 18th and 19th centuries and pilchard fishing was a major industry in Polperro. Throughout the summer months huge shoals of pilchards were caught off the south Cornish coast and then taken to pilchard cellars, called pallaces, for processing.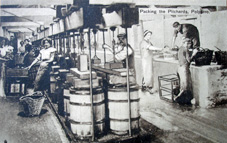 Pallace Court, above the Museum in the Warren, was once such a building. In 1800, Reginald Barrett leased a pallace on the Outer Quay. Another pallace stood at Kit Hill on Talland Hill, leased to James Pearce (1753-1815) and his wife Ann (neé Peake) but by 1813 this had been converted into an inn with a brewhouse attached.
In these buildings, women salted and packed the pilchards up against the walls until a solid bulk three feet deep and six feet high was raised. After a month had elapsed, the fish were packed into hogsheads (straight-sided barrels that held 3,000 fish and designed to leak) and the contents pressed by heavy weights so that the oil and salt seeped out into specially made drains, producing up to 45 litres from each barrel. This 'train oil' was collected for use in lamps or sold for use in the tanning industry.
Even before 1800, Polperro pilchards were sold far and wide, including Italian ports such as Livorno. The fish was purchased almost exclusively by Italian Catholics for religious fasting. Hence the traditional toast of Cornish fishermen:
Here's a health to the Pope; may he never know sorrow,
With pilchards today and pilchards tomorrow.
Good luck to his Holiness; may he repent,
And add just six months to the length of his Lent;
And tell all his vassals from Rome to the poles,
There's nothing like pilchards for saving their souls.
Later, in the 20th century, two Italians – the Teglio bothers – settled in Polperro and leased the fish store below Pallace Court (now the Polperro Museum) from where they exported pilchards to their home country.
Pilchard fishing declined from the mid-20th century, although small quantities of pilchards are still caught in Cornish waters today.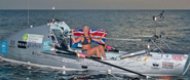 How to beat the Atlantic rowing records after brain surgery
Posted on July 16, 2018
When I wrote the last blog entry in February, our latest author, Kiko Matthews, was somewhere in the middle of the Atlantic ocean attempting to become the fastest woman to complete the crossing solo and unaccompanied.
At the time, neither she nor I knew if she would even manage to complete the crossing let alone break the world record for doing so, given that she was still recovering from recent brain surgery to remove a tumour from her pituitary gland.
Four weeks later, Kiko rowed into Port St Charles, Barbados, exactly 49 days, seven hours and 13 minutes after setting out from Grand Canaria, beating the previous record set by a French woman 15 years earlier by six days. It was a remarkable achievement by any measure, all the more so because she was on medication as she rowed, battling wind, waves and fatigue all the way.
Every day she would send a brief blog of her progress via satellite phone.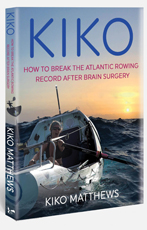 It is this, plus the story of her life leading up to the crossing itself, that has formed the basis of the book that she has written. Kiko: How to beat the Atlantic rowing record after brain surgery will be published in September. Not surprisingly, perhaps, it has taken her rather longer to write than it did to row across the Atlantic, but the account of her epic solo voyage, accompanied by dozens of amazing colour photographs taken on her phone along the way, make a very special publication.
As she says in the Introduction: 'It's an honest account of me, Kiko, and my solo row across the Atlantic. What got me there, my background, my thoughts on those who have helped me and some of the theories behind my mental strength. I really hope you can take something away from it. I want it to make you laugh, to think and inspire you to challenge yourself. If you cry, that wasn't the intention, but you never know! I want it to make you realise you can do anything. After all, I went to quite a lot of effort to prove to you that anything is possible if you want it enough'.